Dry Blending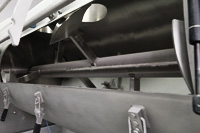 With a production capacity of over 50,000 MT, our dry blending facility is one of the most advanced systems in the country. Together with full computerisation, we can blend in a variety of batch sizes without sacrificing consistency, quality and cost. Our mixers range from 50 kg to 1,000 kg in capacities to cater for multiple customers requirements.
An efficient temperature controlled production environment, a state of the art dust control and a sophisticated production monitoring software ensure that every batch is blended consistently and batch-to-batch variation is within statistically acceptable limits.
The production monitoring software provides full traceability of all ingredients to enable tracking of raw materials down to individual pack. A stringent protocol in handling is also in place to prevent cross contamination.
Our handling protocol complies with Halal and HACCP certification requirements. Regardless of whether the pack size is 100g or 25kg, each pack is produced with the same consistency in quality and integrity.