Bakery Solution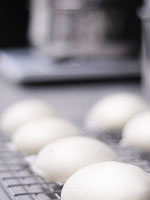 Since the inception, our forte has been in the supply of ingredients to the bakery industry. Over the years we have acquired vast experience in the ingredients application and utilisation of bakery equipment; our R & D team has been seamlessly designing and developing products to meet customer's requirement.
We have also invested heavily in state of the art equipment in our application lab and R&D software to facilitate development of new product and provision of product training to customers.
Today, our products range from improvers, enzyme and vitamin premixes to mould release agents (refer to the section "Application"), to meet the ever changing requirements of customers seeking product improvement.
We are always ready to face challenges presented to us and work hand in hand with our customers to achieve our common goals.